Legend QDI PlatiniX 2DI-AL
Motherboard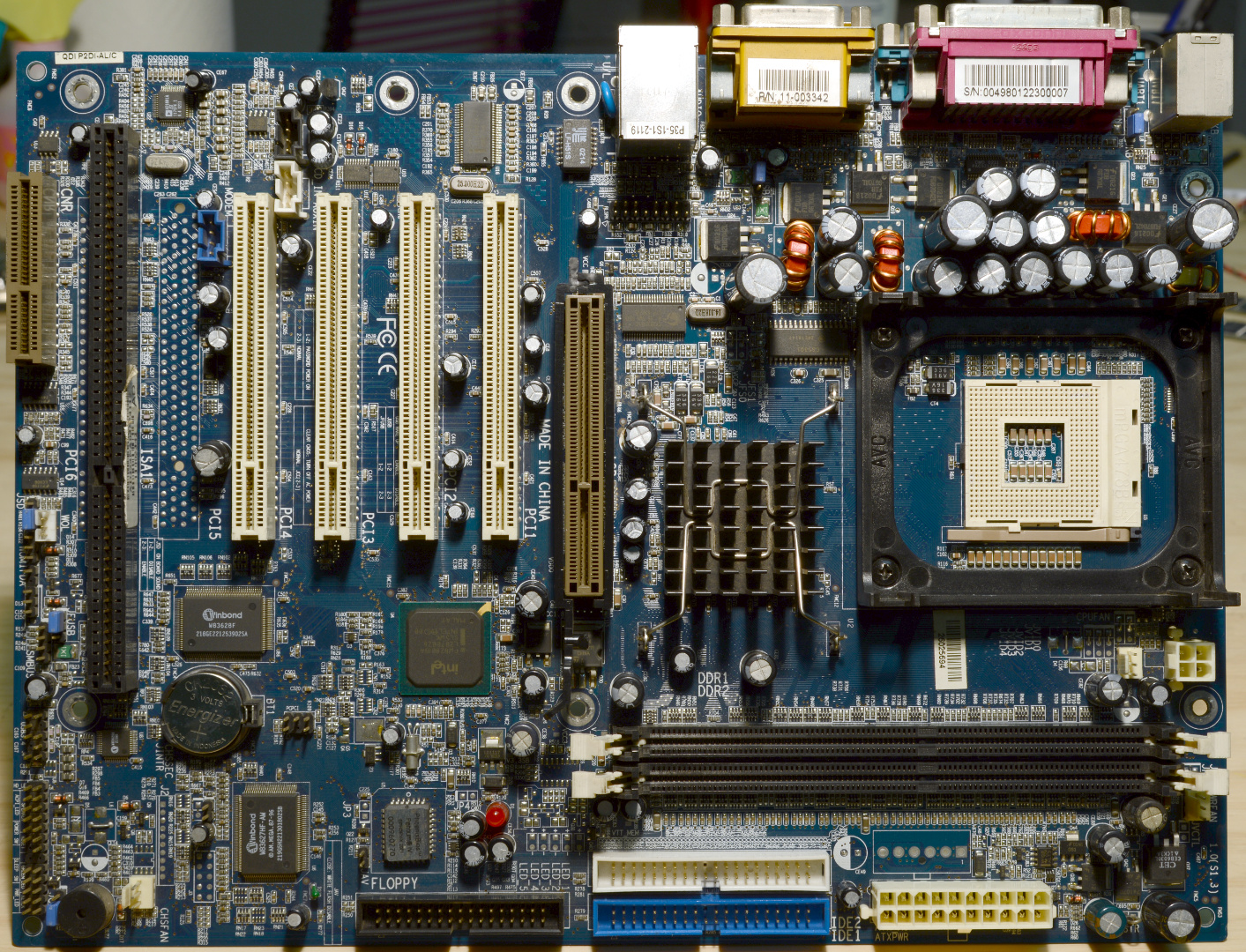 Legend QDI PlatiniX 2DI-AL/C motherboard + SL6PP 2.6 GHz P4 CPU.  Based on the listing title "LENOVE QDI P2DI-AL/C 478 ISA MOTHERBOARD INTEL 845 2.6G 512MEM," I thought I was going to get a 512 MiB DIMM as part of the deal, but no such luck.
With an ICH2 south bridge and a FSB that is limited to 400 MT/s, this Brookdale board is at the bottom of the pecking order for Pentium 4 chipsets, but it was a better value than either a top-shelf 440BX board or an expensive industrial board.  Aside from the ISA slot and the absence of overclocking features, there is nothing especially "industrial" about this one.
CPU
Graphics card
XFX NV44A GeForce 6200, PCI ID 0x0221, with 256 MiB of DDR2 GPU RAM, a 350 MHz GPU clock, and a 532 MHz memory clock.  Listed as "Best Data Products NVIDIA GeForce 6200 (GF6200AGP256) 256 MB AGP 4x/8x..." with a stock picture and stats of the wrong card.
Whatever.  Any 6200 would do to get a DVI output and reasonable performance without adding a fan or generating tons of heat.  Gigabyte's GV-N68128DH GeForce 6800 would have been a contender, but none were listed.
Sound card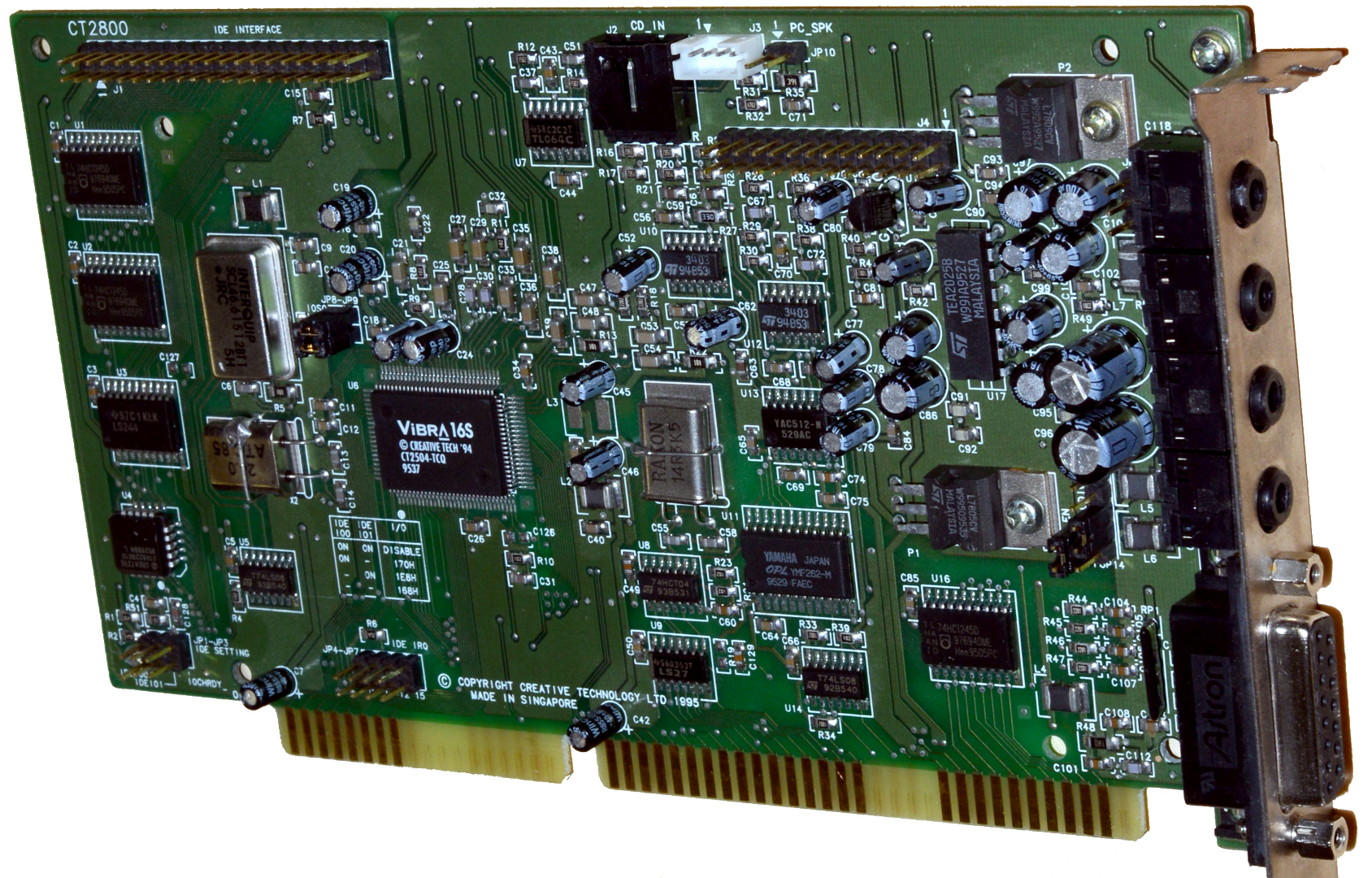 For starters, I'm trying out this CT2800 Vibra, FCC ID IBACT-SBV16S.  Evidently a "Value" Sound Blaster that lacks bass and treble controls, it nevertheless has a genuine OPL3 (YMF262-M) and Yamaha DAC (YAC512-M).
Case
DVD-ROM
Assembly and initial testing
Long-term testing
With the CT2800, there were occasional sound glitches in DN3D that have not occurred with other motherboards.
Later I found that Yamaha OPL3-SA3 (YMF718 and YMF719B) sound cards are very glitchy with this motherboard.  Both PCM and OPL3 are affected.
Lots of things work well enough, but it seems clear that the PCI-to-ISA bridging is not equivalent to what Intel included in earlier chipsets.
Rejected parts
The first motherboard
The first motherboard I received, a model QDI P2DI-AL/U, had a bad case of bad caps and was replaced under warranty.
Two capacitors that had obviously failed already were Fujicon TM, 1000 µF, 6.3 V, 105 °C, 8 mm.
Capacitor near the CPU that vented and actively leaked during testing was Nichicon HM(M), 3300 µF, 6.3 V, 105 °C, 10 mm, mystery code H0239.  This series is known to be defective.  At first I thought they were Rubycons like the ones on the end; the color scheme was an exact match and the logos were hidden.
The replacement board is QDI P2DI-AL/C instead of QDI P2DI-AL/U, came with an older BIOS (both are from 2002), and lacks the Fujicon caps.  The Nichicons, however, are the same kind, so it seems I am doomed to a bunch of recapping anyway.
Deskstar hard drives
IBM Deskstar 120GXP model IC35L060AVVA07-0, 60 GB, 7200 RPM, ATA-100, lot of 2.
On the first one tested the spindle motor was remarkably loud.  SMART reported nothing out of the ordinary except that Power_On_Hours was 86717.  With a date of manufacture of September 2002, that would mean that the hard drive had been run 24/7 for nearly 10 years.  The other one was quieter and reported 41843 power-on hours (4 3/4 years).
However, the showstopper was some kind of firmware conflict.  Two different drives of this model caused two different computers to hang during boot.  If the BIOS was configured to ignore the drive, booting would proceed normally from other devices, and the drive could then be accessed from Linux with no hint of trouble.
To avoid further delays I ended up pulling a working drive from another PC.  The salvage drawer is full of 4 and 6 GB drives, but Slackware alone uses more than 6 GB.
Bad floppy drives
Lot of 4, as-is.  The first one was DOA.  Another one initially tested OK but over time proved to intermittently corrupt and destroy floppies when writing to them.
BIOS, headers, jumpers
Costs
All dollar figures are bottom line costs including taxes and shipping (estimated when items were part of a larger order) and subtracting rebates.
Revised 2013-08-04 to account for second bad floppy drive.
From storage
Items
Cost
PC Power and Cooling Silencer Mk III Series 400W Modular Power Supply
$59.99
CT2800 Sound Blaster
$11.50
2 round 6″ IDE cables
$10.12
Round 10″ floppy cable
est. $3.99
2 256 MiB PC2100 (DDR-266) 2.5-3-3-6 non-ECC DIMMs (salvage)
0
Maxtor 6E030L0 DiamondMax Plus 8 UDMA/133 30 GB PATA hard drive (salvage)
0
New purchases
Items
Total cost
This project
Write-off
Other assets
Legend QDI PlatiniX 2DI-AL/C motherboard + SL6PP 2.6 GHz P4 CPU
$72.00
$65.50
0
$6.50
Thermaltake Sonic Tower heat sink
$54.70
$54.70
0
0
ACubic Art Black Widow case
$31.98
$31.98
0
0
IBM Deskstar 120GXP hard drives (lot of 2)
$14.99
0
$14.99
0
3.5″ floppy drives (lot of 4)
$16.80
$4.20
$8.40
$4.20
XFX PV-T44A-WANG GeForce 6200 256 MiB
$16.50
$16.50
0
0
XJ-HD166S DVD-ROM
$10.99
$10.99
0
0
SL7EY 2.8 GHz P4
$6.50
$6.50
0
0
Shop supplies
Supply
This project
CR2032 battery
est. $3.53
Arctic Silver 5
est. $0.75
Screws, cleaning supplies, audio cables, misc.
est. $5.00
Totals
Total project cost
$285.25
Total new purchases
$224.46
Total waste
$23.39
Epilogue:  Beige is also OK
2014-08:  Since last year the supply of high-end ISA motherboards on EBay completely dried up.  Fearful that the supply of Socket 478 CPUs would soon follow, I ordered another 2.8 GHz one (now $10.60, no big deal but still a 63% year-on-year increase) and got on with trying to salvage the motherboard with the leaking caps.
After replacing twelve 3300 µF Nichicon HMs and the two failed 1000 µF Fujicons with Panasonic FRs, it was an epic struggle to get the CPU socketed.  The pins were only slightly bent, but it was enough, and most attempts to straighten them only made things worse.  I now hate Socket 478.
Shockingly, the board and CPU both survived, and the hasty build turned out better than expected.
Random beige er, white case originally from EBay (the only spare case I had on hand), with a rear fan added FWIW.
Seasonic M12II-520Bronze (alias SS-520GM Active PFC F3).  Seasonic still makes 300 W PSUs, but they aren't modular.
Rosewill RCX-Z200 CPU cooler.  It's pretty quiet and does the job.
EVGA 6800 GT.  Overkill.
Another XJ-HD166S DVD-ROM, only beige.
40 GB Western Digital HDD.
AOpen AW35 Pro with ROM-based wavetable synth.
Another improvised PC speaker to sound card wire.  The polarity matters, it turns out.
Two more 256 MiB DDR-266 2.5-3-3-6 non-ECC DIMMs.
Memtest86+ 5.01 reports only 747 MB/s.  Eh?  Memtest86 v4.3.6 says 763 MB/s.  Memtest86+ 4.20, the version used last year, says 865 MB/s.  Aha!  Results from different versions are not comparable.
The AC'97 audio doesn't work on this board either.  Weird.
A 6800 GT puts out a lot of heat for a closed-front case, but this was the only case I had on hand and the 6800 GT was the only AGP 4×/8× card left in the drawer.  Fortunately there's enough air from the side fan to avoid a meltdown.  The bottom half of the case gets warm but not hot.
Apart from that and the extra fan noise, the only negative on this build is the lack of a side window for keeping an eye on those caps.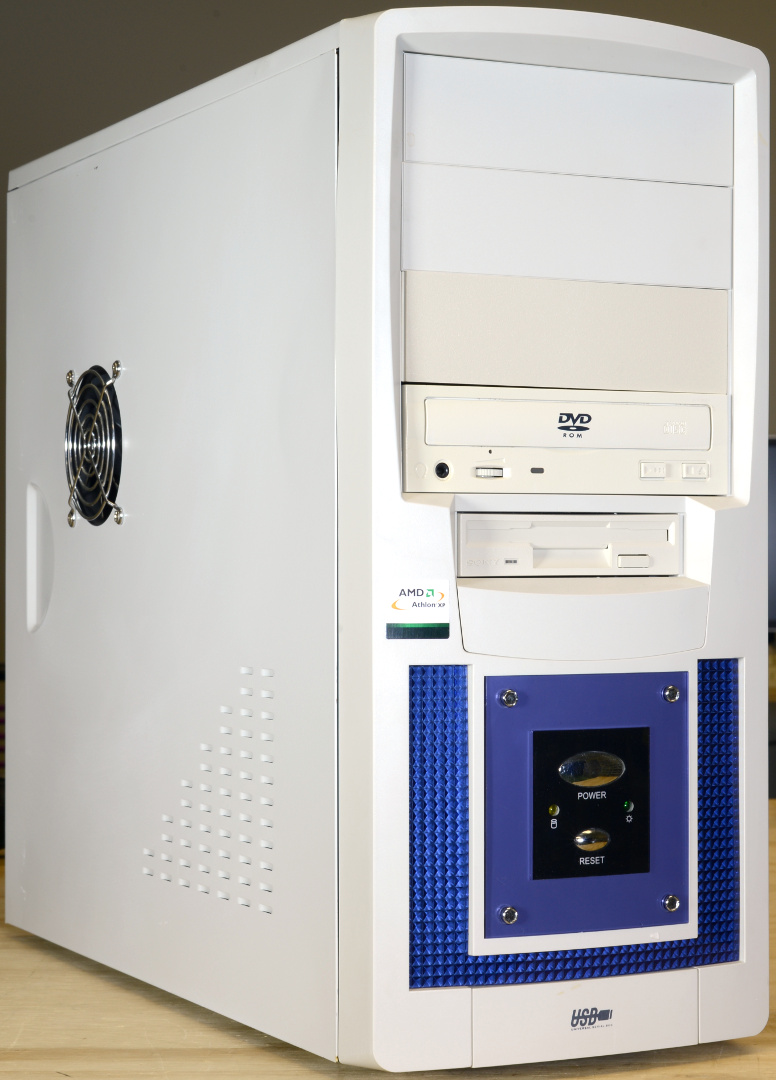 White... beige...  It matched just fine until I took that picture.  Ignore that Athlon XP badge too.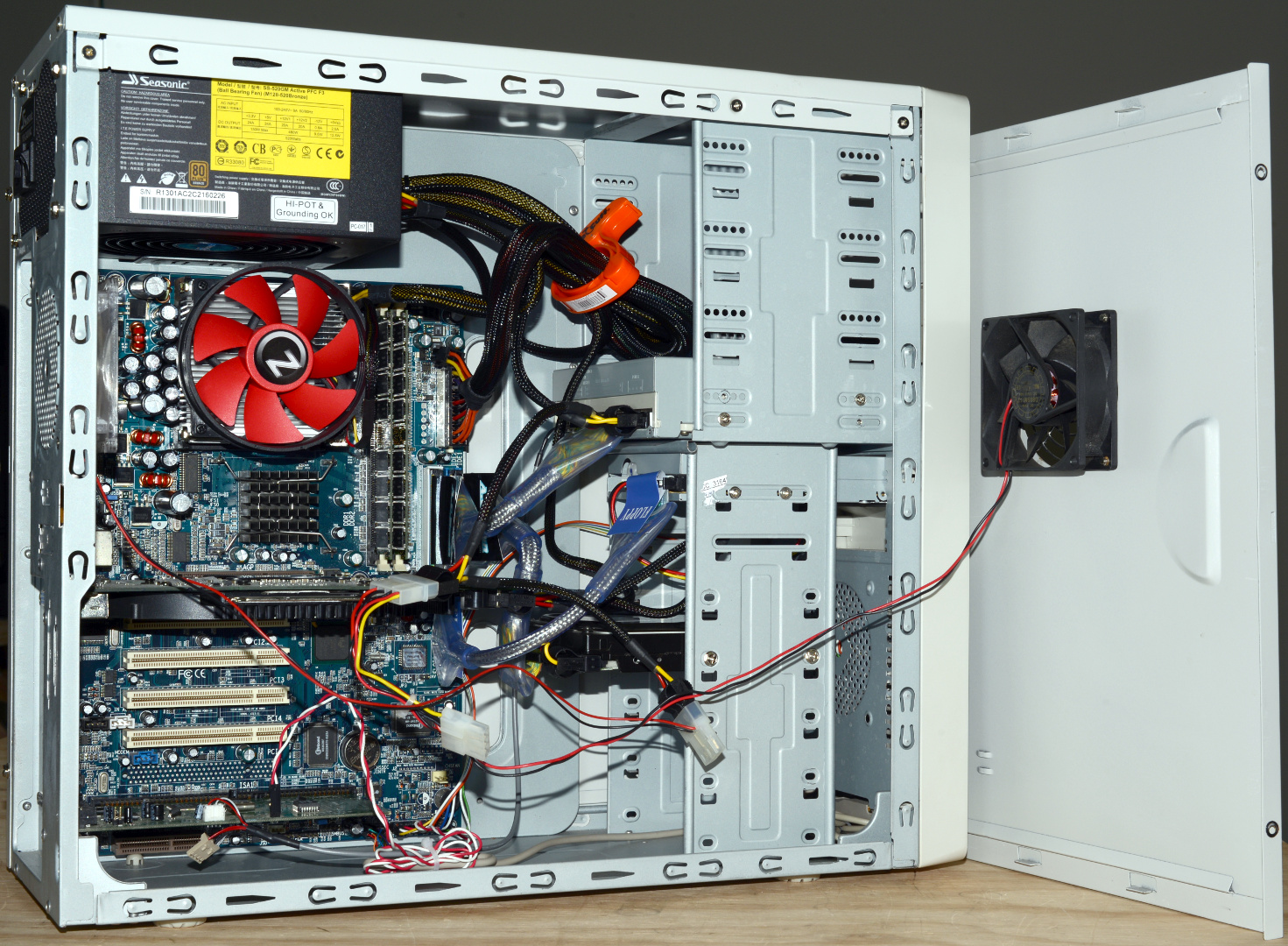 ---