Nvidia AGP extremity
Last modified: 2023-05-27 13:01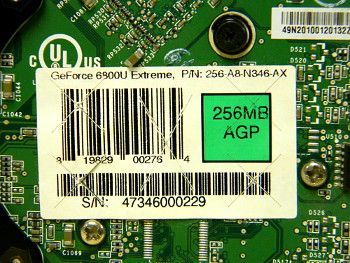 When they first appeared in 2004, the only way to get a 6800 Ultra Extreme was in a lottery from EVGA. When they did go on sale generally, supplies ran out before any significant price-drops occurred.
The 6800 GT, 6800 Ultra, and 6800 Ultra Extreme were just different speed bins for the same GPU core. GTs and Ultras overclocked to 450 MHz and beyond were relatively common. This sticker is the only thing distinguishing a legit Ultra Extreme from a good Ultra with a flashed BIOS.
Despite the nomenclature, the 6800 series was not to be the ultimate for nVidia AGP. That title went to the AGP-bridged 7950 GT, which would outperform a 6800 Ultra Extreme by a significant margin if it worked. However, many users reported lock-ups due to compatibility glitches with the AGP bridging, and on a 32-bit PC the 512 MiB frame buffer rendered an [even more] ludicrously large chunk of high memory unusable (c.f. the 512 MiB 6200).
Product (all AGP versions)
Core freq.
Memory freq.
Original MSRP
Note
XFX 7950 GT
550 MHz
1400 MHz
?
Negative Newegg reviews suggest pattern of failures
Axle 7950 GT "Classic Edition"
550 MHz
1400 MHz
?
AX-795/512D3A6CDHT-1.4
Leadtek 7950 GT
500 MHz
1300 MHz
?
Unable to confirm core and memory freqs
Axle 7950 GT "Dynamic Edition"
450 MHz
1200 MHz
?
AX-795/512D3A6CDHT-1.2
Galaxy 7950 GT
450 MHz
1200 MHz
?
Unable to confirm core and memory freqs

---

BFG GeForce 6800 Ultra OC (water block)
470 MHz
1100 MHz
$599.99
Proved unstable; core freq. reduced to 425 MHz in later revs
EVGA GeForce 6800 Ultra Extreme Edition
450 MHz
1200 MHz
$599.99
GeForce 6800 Ultra Extreme
450 MHz
1100 MHz
$549
Reference design
BFG GeForce 6800 Ultra OC (air)
425 MHz
1100 MHz
?
Extremely popular; produced in volume
GeForce 6800 Ultra
400 MHz
1100 MHz
$499
Reference design
GeForce 6800 GT
350 MHz
1000 MHz
$399
Reference design
XFX, Leadtek, and Axle all made 7950 GT cards with two DVI connectors. Later, Galaxy made them with one DVI connector and one analog VGA connector. All of the above had a single Molex power connector.
The card pictured below was listed as a 7950 GT on EBay circa 2011-02. Mmmmmm I don't think so.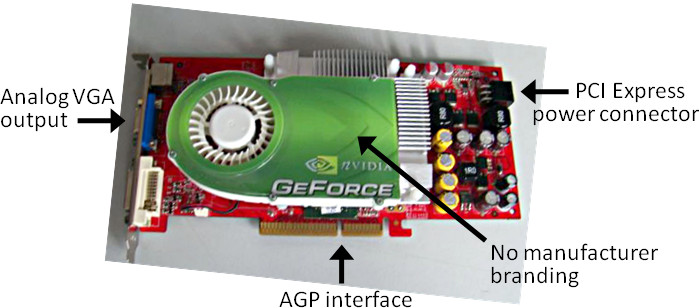 ---